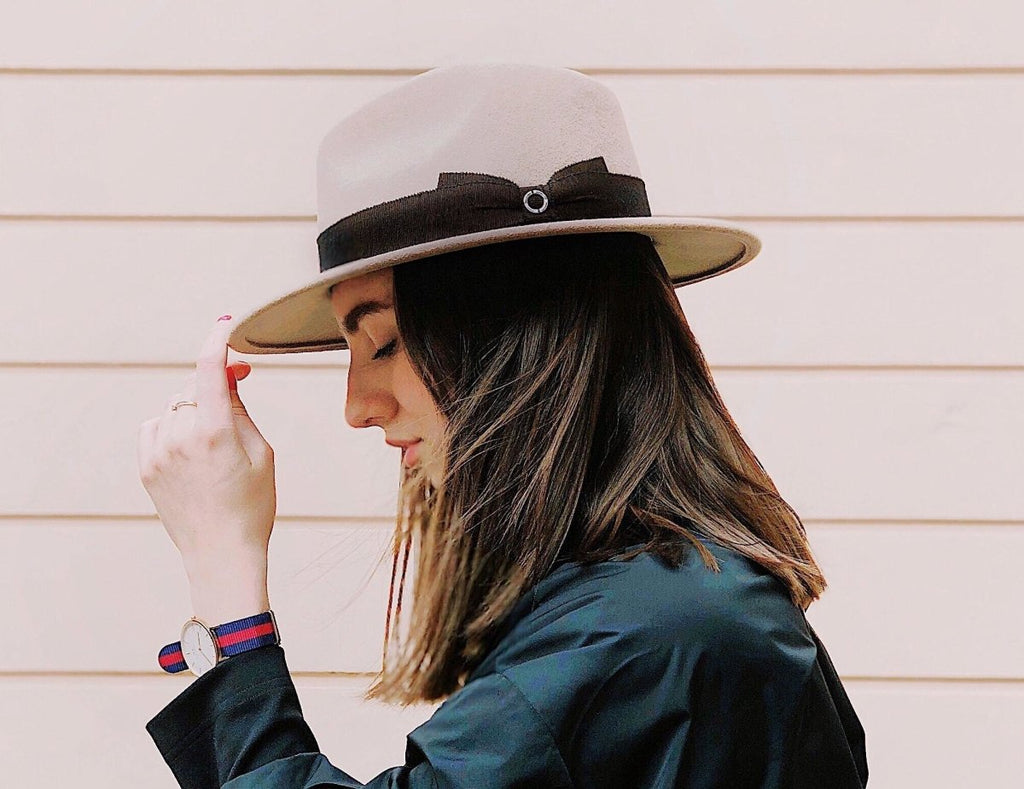 The Art of Wearing Hats
Rediscover the secret art of wearing a hat beautifully.
For tens of thousands of years, hats have been the most important & powerful clothing that you can wear. Crowning the top of your head, they are clearly seen even from a distance. There was once a sophisticated visual language that everyone understood, and used to communicate who they are - through hats. 
If you were a plumber from Manchester, you wore a very specific bowler hat that spoke loudly about what you do, where you're from, how you see yourself and how you feel. If you lived naked in the Amazonian jungle, you still wore a hat and your hat did the same thing as it does for a king, general, pope, artist, teacher, shaman, sailor or housewife.
My grandfather understood this language, but it was lost in the 1960s when it was replaced by hairstyles, suntans, perms, blow waves, shampoo and rebellion. The hat became perceived as the symbol of the establishment and conformity, which was very uncool - people wanted to be free. So, slowly the language of hats receded from our world.
Little pockets of aficionados remained; musicians, artists, celebrities, nature lovers, painters, poets and the creatives, continued to understand the primal power of a good hat. They slowly learned to reinterpret the language of hats and use it to express themselves. To solidify their identity and stand out in a crowd.
Through their leadership and inspiration, hats have been slowly weaving their way back into our lives. The language is being reborn, unbounded by all the old rules and the curse of conformity. Hats have become a form of liberation, of rebellion, self-possession and most of all self-expression.
Sometimes, when I look into a crowd and see an ocean of baseball caps, with logos on the front, it saddens me. This once complex and sophisticated art form has become a cheap novelty item, advertising someone's product.  But I prefer to think of them as beginners hats, and it makes me feel a whole lot better.
I guess what I want to say is that a good hat is the best opportunity you have to express yourself with style. Most people don't understand the language of hats, so they would prefer to say nothing, rather than get it wrong. 
My work as a hatmaker is helping people to communicate through beautiful hats.
So, let's talk about how you can speak Hat.
FRAMING
The primary impact of hats is they frame your eyes, giving them intensity, depth and focus. They create a halo of colour and texture that frames the windows to your soul. Choose the colour, size and texture of that halo with care. There is an old trick, used well by celebrities and rock stars. Wearing a hat that frames your eyes, you then hide them behind sunglasses. Instant intrigue is created. Not only does it relieve you of bad hair, bloodshot eyes and your sorry state, but you also look amazingly rock-n-roll. Everyone in the business of looking good wears a hat.
ANGLE IS ATTITUDE
Hats are made to be tilted. How much you tilt, and which way, determines the personality of the hat. If you tilt it forward, you are hidden and more powerful. Tilt it back and you are relaxed and friendly, and possibly cute. Tilt a little to the side, and it becomes stylish and light. In Italy, they tilt the hell out of their hats, and it gives them a carefree, rakish disposition. Snapping the brim up all around is light-hearted, angelic and glamorous - like a halo. Snapping the brim down gives it an elegant bucket hat styling - sharp and couture. Curling the sides, is more country, more cowboy. Pencil curls are old school, well dressed with a smidge of western. So play with what your hat says by simply changing your brim.
DRESSING UP OR DOWN
Real hats are like icing on the cake - they change the whole story of what you are saying. You can be walking around in shorts and t-shirt, and when you add a hat it becomes an ensemble. You automatically become well dressed, like all the pieces are a deliberate choice, and the hat is an exclamation mark. Combine a hat with a beautiful dress, and it's like you are going somewhere important, even if it is down to the park with the dogs. Put your hat on with your craziest outfit, and you become a superstar. Everything you do with your clothes becomes amplified
GOOD HATS MAKE ALL THE DIFFERENCE
Hats speak louder than all your other clothes - so always wear your best hat. Once you've owned a few hats, you start to realise that you get what you pay for. In the old days, your hat was always the best you could afford. They would last well, and always look good - it was worth it. Living in the consumer age that is harder to understand. Beautiful quality and elegant design are self-evident with hats, as it is with shoes and glasses. Most people are disappointed by their hats, and feel they don't look good in them, because they have never worn a good one. A one size fits all from the surf shop is exceptionally unlikely to inspire you. So look around, see what the hats look like on others, and buy the best you can afford, you will never regret it.
CORRECT SIZING
Wearing a poorly fitted hat looks terrible. If it is too big, it will flop down on your ears and you will look like a child playing dress-ups. Too small, and it will rise up onto the top of your head, like in a comedy skit, making you appear simple and foolish. In both situations, the hat will fly off in any wind and chasing your hat, is downright annoying. Think carefully with the sizing, and take your time getting it right. I am pedantic about it, especially online. When done correctly it makes all the difference to your great hat experience.
FEATHERS
Hats are the best excuse in the world to wear feathers. Exquisite, powerful and exceedingly beautiful they are the oldest form of headwear. They give your hat warmth and character. Whether it is a fine arrow, colourful flourish or a simple barb. There is a whole universe of expression just in the subtlety of a feather. Living in a rainforest full of parrots, I find feathers every day (cockatoo, owl, kookaburra, king parrot, rosella and magpies). I slide them into my hat and gift them to the people. One of the joys of being hatmaker, is you get to gift beautiful things.
CONFIDENCE
Walking around in a good hat always generates great feedback. Every day I am stopped by men and women, complimenting my beautiful hats. I become easy to recognise and the centre of attention. I just enjoy the game of it all. 
When you are onto a good thing, you just want to share it.
It would be a lot easier if my hats cost $60, but there are no shortcuts to making a great hat.
Love
The Truffaux
Read about the crafting of Panama Hats